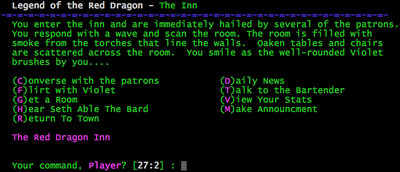 The Inn is accessible only from the Town Square, but it has a lot going on inside.
Flirt with Violet
Edit
Male players have an option on the main menu to flirt with Violet, the barmaid.
Hear the Bard
Edit
All players, male and female, can hear one of Seth's Bard Songs, once per day. If you try again, he'll tell you his throat is too dry.
Female players can flirt with Seth from this option as well.
Talk to the Bartender
Edit
The bartender serves several functions:
Explains that charm works on Seth
Takes 2 Gems for one of three magic elixirs
Accepts 1600 gp/lvl (level 2+) to give you his room keys so you can break in and kill another player
Accepts 500 gp/lvl to change your name
Converse with the Patrons
Edit
A non-live chat room, you can post one line of text and color-code it if you want to. Occasionally, Violet, Halder, the Hooded Warrior, or Grizelda (if Violet is married) will butt into the conversation with a comment.
Get a Room
Edit
Getting a room at the inn costs you 400 gp/lvl. This is spendy for the lower levels, but after about level 3, it's not usually difficult to afford it.
Players who are in a room can be attacked only by players one level above them, their own level, or any levels below them except for level 1 players, who cannot break in at all). This offers some protection against getting slaughtered by just anyone, but it also can mean that only those in direct competition from you will have a shot at you, so sometimes highly competitive players go to the fields, hoping a level 12 will slaughter them before anyone they know benefits directly from a great day's work.