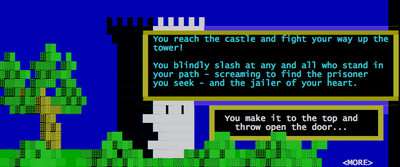 There are five towers in the game. All are encountered in the Forest , and through the same random forest event.
Castle Coldrake
Fortress Liddux
Gannon Keep
Penyon Manor
Dema's Lair
While in the Forest, you may sometimes get an event that begins with you stumbling, or, if you're riding a horse, then your horse stumbles. The object that you have stumbled over invariably is a dead bird with a scroll. You will be given the option after you read the scrol to (I)gnore the message or to (S)ave the person who wrote to you.
If you have previously encountered
Olivia
and (G)otten inside her head, you will know which tower contains the prince or princess, some
gems
(
Level x
3), and, if you're a
male
player, a free lay. If you don't know for sure which tower has the reward, then you can guess.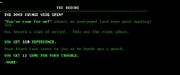 There is one tower that holds the princess. Whenever you correctly guess the tower with the prince or princess, all towers are reset. There is an equal chance among all five towers for the next selected correct tower. If you choose one of the other four towers, then there is a 50% chance of finding a holl who removes 75% of your remaining hp, and a 50% chance of finding people playing chess. If you don't find the princess then her location remains the same (hence, you know not to look in that location again if you get another chance that day).
Community content is available under
CC-BY-SA
unless otherwise noted.